JA Economics®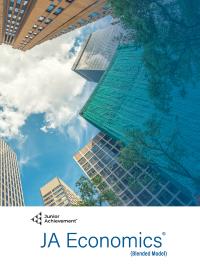 Implementation:
Classroom Based
Virtual
Pillars of Student Success
Financial Literacy
High Financial Literacy
Entrepreneurship
Minimal Entrepreneurship
Work Readiness
Minimal Work Readiness
JA Economics
is part of the JA High School Experience courses, is a one-semester course that connects high school students to the economic principles that influence their daily life as well as their future.
Through a variety of experiential activities presented by the teacher and volunteer, students better understand the relationship between what they learn in school, their future career, and their successful participation in today's global economy. Volunteers engage with students through a variety of activities that may include subject-matter guest speaking, coaching, or advising for case study and project coursework.
The course addresses each of the economics standards identified by the Council for Economic Education as being essential to complete a high school economics course.
This course has received California A-G approval from High School Articulation, Office of Undergraduate Admissions, University of California.
Following participation in this course, students will be able to:
-- Learn the necessary concepts applicable to state and national educational standards.
-- Apply economic reasoning and skills in the world around them.
-- Synthesize elective concepts through a cumulative, tangible deliverable (optional case studies and/or projects).
-- Demonstrate the skills necessary for future financial literacy pathway success.
-- Integrate College and Career Readiness anchor standards in Reading, Informational Text, Speaking and Listening, and Vocabulary
JA Economics
is part of the JA Financial Literacy Pathway. The course is a blended model that includes teacher-led content, volunteer-led opportunities, and self-guided content to support flexible implementation options.
JA Economics
is available in classroom-based or remote live implementation. Robust support materials are available for teachers, including a pacing guide for semester-long implementation. Your local JA area may have the opportunity to support interested districts that have formed a relationship with post-secondary institutions to facilitate dual credit.
As part of this course, JA teachers and volunteers are encouraged to use the resources available in JA Connect® Learning Pathways, located at connect.ja.org. This self-guided experience includes interactives, JA Here to Career™, and games and apps for student use.
JA programs support national and state standards in reading, mathematics, social studies, and work and career readiness. See below for more information on alignment with national and state standards.
Virtual Implementation
Remote live implementation is available for
JA Economics
.
Sponsor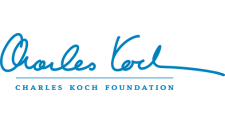 Junior Achievement gratefully acknowledges the Charles Koch Foundation for their contribution to the redevelopment of JA Economics.
JA High School Experience Overview
Alignment with State and National Standards
Request a Presenter to Teach Curriculum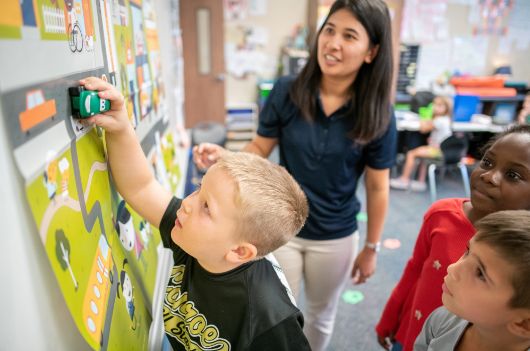 Junior Achievement lessons are delivered by volunteers from the community. These presenters are prepared by JA to facilitate engaging learning activities that focus on financial literacy, work and career readiness, and entrepreneurship. This results in an enriched learning experience that helps students make the connection between what they learn in school and the world outside the classroom.
Steps to Request a Presenter

1) Request Info
Once you've decided to have a JA volunteer in your classroom, fill out the form on this website. You will receive information on next steps.
2) Pick Schedule
You will be able to coordinate a schedule that works for your class either online or in conjunction with a JA representative.
3) Meet Presenter
Once a volunteer is identified for your class, JA will connect you with the presenter to discuss roles, expectations, and logistics.
4) Empower Students with Standards-Based Education
After all details are in place, the JA volunteer will deliver lessons to your students either virtually or in-person.
Get Involved with Junior Achievement!
If you would like to volunteer, request a program, or volunteer with JA,
please reach out to a JA near you!


We use cookies to provide you a personalized experience. How we do this is by analyzing user behavior on our site and sharing data with our advertising and analytics partners. You consent to our cookie policy if you continue to use this website.