JA My Story | Zach Fleming
Enrich Classrooms by Becoming a JA Volunteer
Author: Ed Grocholski
Community Involvement
Published: Wednesday, 15 Feb 2023
---
Sharing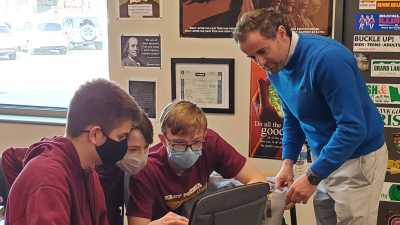 Image caption: Mr. Fleming teaching his class.
"It's enriched my class. It's the best supplement I can do outside the book."
Zach Fleming, a consumer education teacher who works with sophomores at East Peoria Community High School in East Peoria, Illinois, is a champion for Junior Achievement of Central Illinois. For the past 15 years, he has used Junior Achievement's blended JA Economics and JA Titan programs to enrich his lesson plans with what he refers to as "real-world consultants;" aka Junior Achievement volunteers.
JA Economics-Blended is a one-semester course that connects high school students to the economic principles that influence their daily lives as well as their futures. It includes the use of digital learning resources (blended) and in-classroom volunteers, often from the local business community, to deliver lessons. JA Titan Blended Model is a simulation-based program in which high school students compete as business CEOs in the phone industry, experiencing firsthand how an organization evaluates alternatives, makes decisions, analyzes the outcomes of those decisions, and then strategizes what to do next. It, too, uses volunteers or consultants who help coach students.
"These consultants hit a different chord with students," says Mr. Fleming. "As a teacher, I can share the same concepts. But when the volunteers share their passion and perspective, you can see it click with students."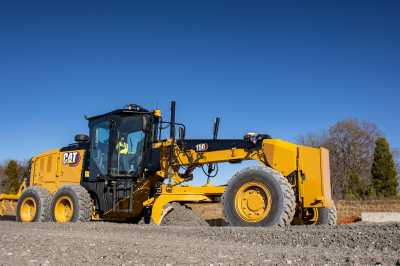 Image caption: A Caterpillar tractor moving dirt.
The volunteers come from employers in the community, such as Caterpillar. As part of delivering JA lessons, the volunteers share real-world experiences from their work. These examples reinforce the lessons Mr. Fleming is teaching in his class.
Mr. Fleming notes that not every student plans to go to college and finds JA valuable in introducing young people to careers that don't require a degree, such as in the skilled trades, as well as occupations students can pursue straight out of high school. He says volunteers often share their career journey with students, making JA even more relatable.
"I'm pretty lucky to have worked with JA of Central Illinois," adds Mr. Fleming. "They put me in touch with a lot of great people."
The feeling is mutual. In 2022, Mr. Fleming was named Junior Achievement of Central Illinois' Teacher of the Year. Thanks to educators like Mr. Fleming, JA continues to provide young people with the tools they need to pursue their dreams and achieve their potential.
To learn more about how to volunteer for classes like Mr. Fleming's, please visit www.JA.org/Volunteer.
To locate the JA Area office nearest your geographic location, visit: https://jausa.ja.org/about/locations
Get Involved with Junior Achievement!
If you would like to volunteer, request a program, or volunteer with JA,
please reach out to a JA near you!


We use cookies to provide you a personalized experience. How we do this is by analyzing user behavior on our site and sharing data with our advertising and analytics partners. You consent to our cookie policy if you continue to use this website.